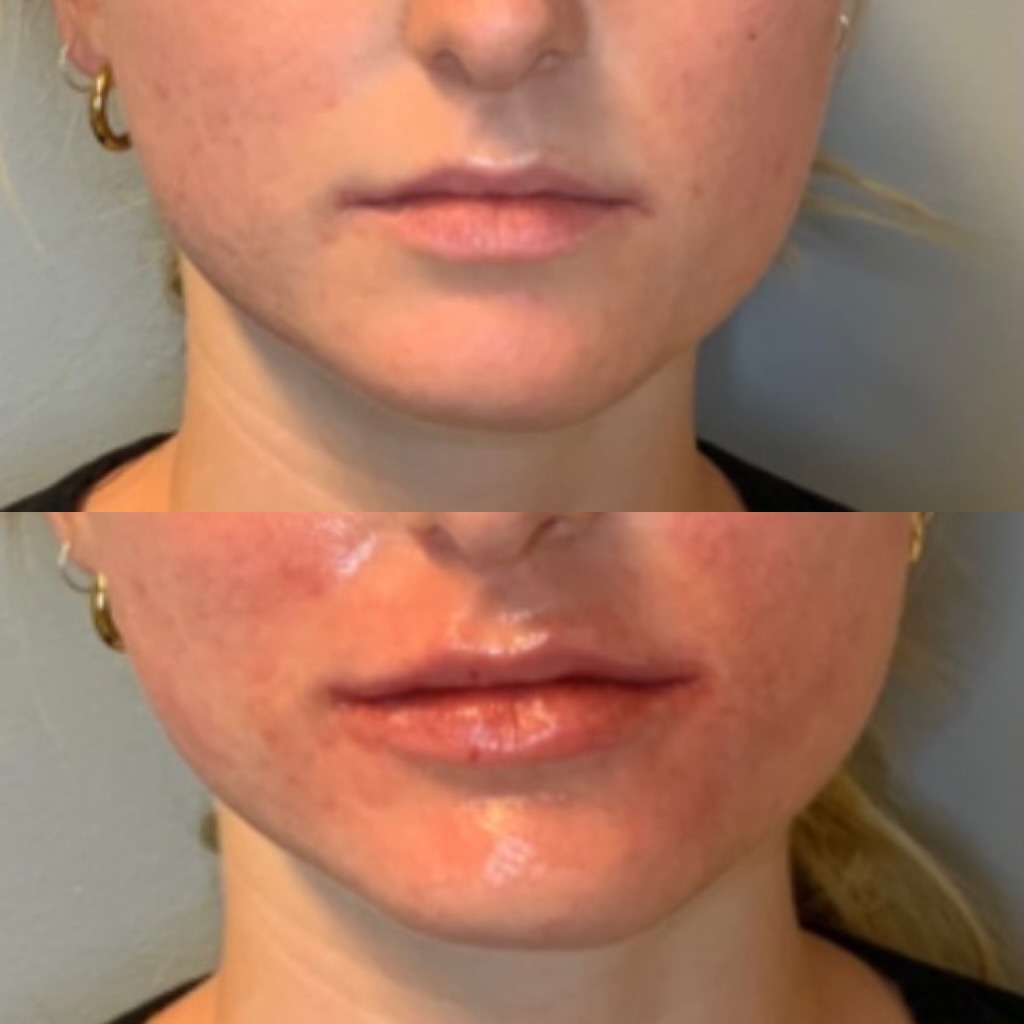 Offering the full line of Restylane, Versa, Texane RHA, Sculptra, and Radiesse. For a completely natural option, EZ gel is offered as an option.
The use of fillers can eliminate/ lessen wrinkles, creases, plump, restore volume los, raise scar depressions, and hydrate lips. Restylane, Versa, and RHA products are made up of hyaluronic acid. Sculptra and Radiesse are biostimulators that last longer and produce longer results. Sculptra is poly-L-lactic acid. Radiesse is calcium hydroxylapatite. As we age, our ski becomes more susceptible to wrinkles and sun damage, as well a natural volume loss. Fillers can help create cheek volume, give mid face restoration, reduce the
appearance of tired eyes, plump and restore lip volume, and overall facial balance. You should plan on using a minimum of 1 syringe per decade of life, e.g. if you are in your 50s, plan on having a minimum of 5 syringes injected.
WHEN WILL I SEE RESULTS?
Results are immediate with all hyaluronic acid fillers. Radiesse is immediate, yet is a biostimulator that helps stimulate collagen and elastin production, so results are longer lasting. Sculptra is a biostimulator that helps rebuild collagen and elastin with more subtle results. You lose about 1% of collagen per year of life. With all fillers, you should plan on bruising and
swelling for about 5 days after the procedure.
HOW LONG DO THE RESULTS LAST?
Hyaluronic Acid fillers, results last 9-18 months.
Radiesse produces results for 18-24 months.
Sculptra will give results that last over 27 months.
WILL I NEED TIME TO RECOVER?
No, sometimes there will be swelling, especially with lip injections. There is also the possibility of bruising. You may also be a little sore for a day or 2 after.
THE COMPLETELY NATURAL OPTION
EZ Gel is based off of PRF. PRF is obtained from your blood with a simple blood draw. This is 100% natural and additive free based on a slower release of growth factors and increased skin cells stimulation. EZ Gel goes one step further in the use of autologous blood concentrates. It acts as a 100% natural volumizer. EZ gel is the only option for a 100% natural, regenerative and volumizing gel.
restylaneusa.com
radiesse.com
sculptraaesthetic.com
revanesseusa.com
rhacollection.com