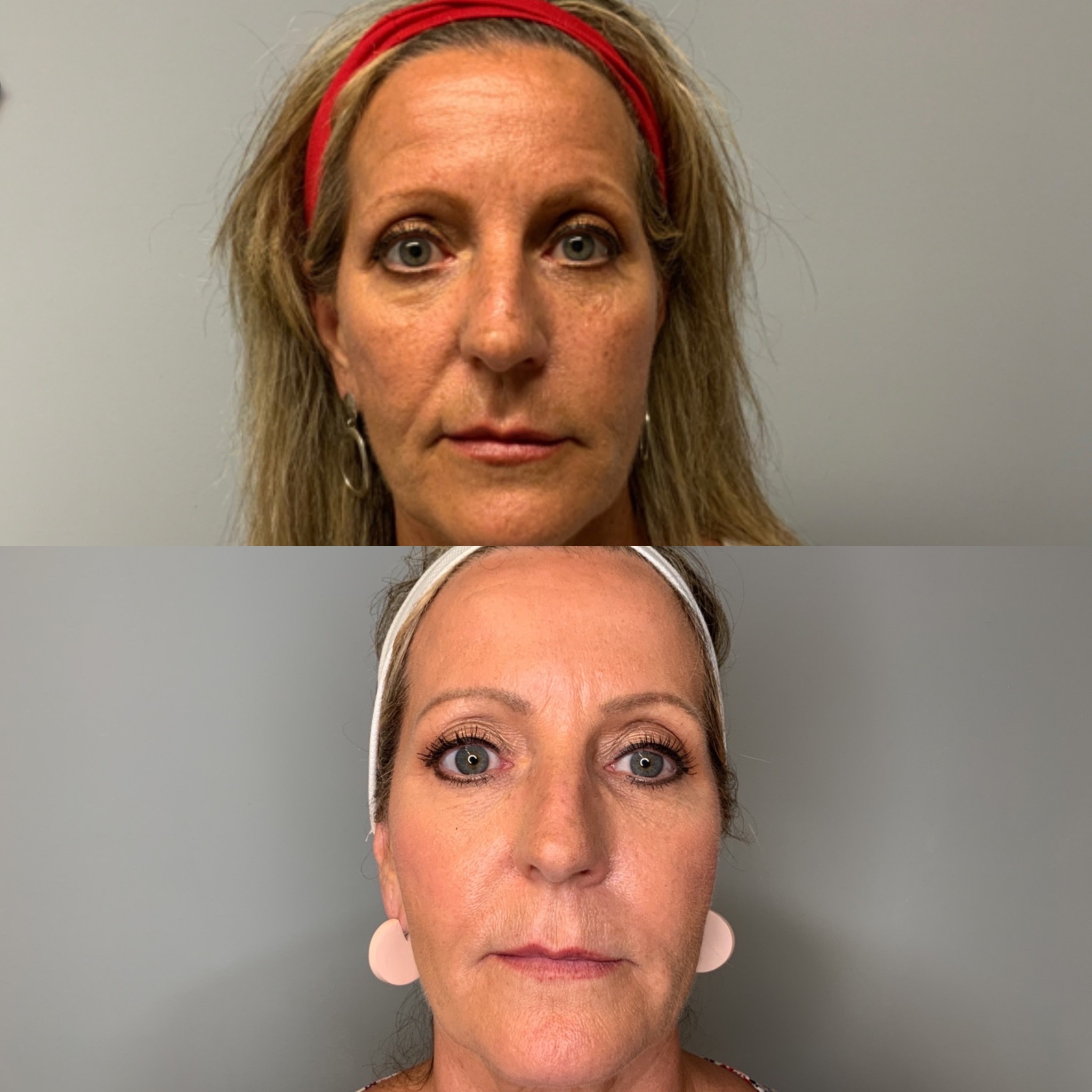 Radiesse
Radiesse is a FDA approved dermal filler that gives immediate and long tern wrinkle correction to the mid and lower face. Radiesse is injectable Calcium Hydroxylapatite (CaHA) that provides both immediate natural looking results and long term improvement. It provides immediate contouring plus stimulation of collagen and elastin production. The long term benefits last over 18 months in most patients.
 Two important components in how the skin changes over time are collagen and elastin, because they keep facial lines and wrinkles at bay. Collagen and elastin both contribute to the skin's strength and elasticity. Age and environmental factors make it harder for your body to produce these components. Reducing collagen and elastin production (natural aging process) results in skin to wrinkle and sag.
 Upon injection, the Radiesse gel matrix provides immediate improvement. The CaHA gel integrates into your skin and creates a "scaffold" that stimulates production of collagen and elastin. As the gel barrier breaks down, a firm network of collagen fibers form. This begins to smooth out lines and promote renewed skin structure.
 Radiesse is my "GO TO" for injecting and restoring the jaw to bring balance and contour. It can also be injected into the hands for hand rejuvenation, as well as the neck, décolleté, and other body parts. Radiesse is truly an amazing product for overall skin rejuvenation.
SCULPTRA
 If you want to appear more youthful looking – without appearing like you've had any work done – then Sculptra is for you!
 Collagen and elastin are KEY! Sculptra can help you stimulate your natural collagen growth to help restore facial volume and fullness over time. Nothing on the market of injectables can stimulate as much and as many types of collagen as Sculptra does. 94% of patients agree that the treatment results look natural at 2 years after treatment. Most patients typically find that 3 treatment sessions are necessary to achieve optimal results/correction.
 What is Sculptra? It is a FDA approved injectable that helps replace lost collagen, the most common protein in the body that is used to form a framework to support cells and tissue. The results can last up to 2-5 years. It addresses the underlying cause of facial aging, not just the symptoms. Sculptra is a poly-L-lactic acid (PLLA) collagen bio stimulator. It works with your body within the deep dermis to help revitalize collagen and elastin production and help restore your skin's inner structure and volume. As the PLLA micro particles are absorbed, they help stimulate collagen production. Rebuilt collagen strands begin to gradually restore facial volume and the look of fullness to wrinkles and folds.
 Jalie has been trained in Sculptra injections by Dr. David Sadaat. Dr. Sadaat is a Beverly Hills Plastic Surgeon and is one of the top Sculptra injectors in the United States. She continues to train with Dr. Sadaat throughout the year to bring the highest quality of care and knowledge of the aesthetic industry to Manistee.