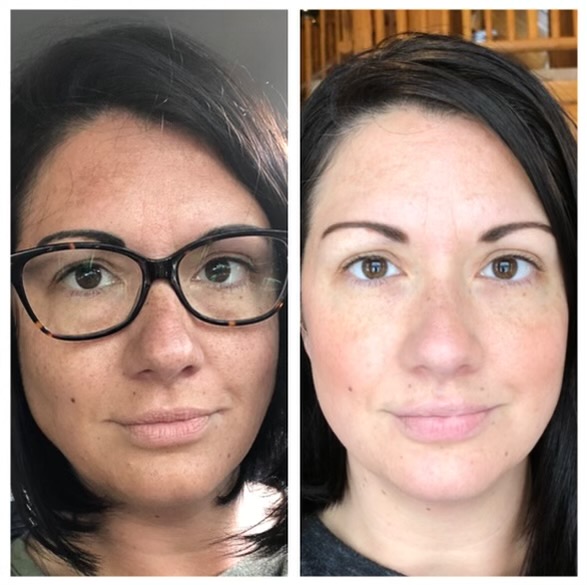 PRP or PRF is commonly described as "liquid gold". It is the perfect solution to stimulate cell growth and collagen production within the body. PRP/ PRF can be used to stimulate hair growth (average 30%), diminish scarring, and reduce facial aging. PRP/PRF has been shown to fade darkness under eyes, provide natural facial volume restoration, and fade brown spots.
During your appointment, you will experience a blood draw from an arm. That blood will be processed in a special centrifuge, and then used for treatment. The special centrifuge is able to separate red blood cells from plasma. This process concentrates the platelet count. This plasma is then used for treatments.
EZ Gel is taking your PRF one step further. It takes the PRF obtained, which is then subjected to a cooling and heating process without any chemical addition nor modification, for rejuvenation and volumizing purposes. With the heating and cooling process, your PRF is turned into a GEL substance which is then injected into your face in the same fashion as a filler substance.
Microneedling with PRP/PRF can be used on the face, neck, and décolletage to stimulate collagen, tighten skin, minimize pore size, improve skin texture, diminish scarring, and improve the appearance of fine lines and wrinkles. It is the ultimate anti-aging natural facial. This procedure requires topical numbing cream for 20-30 minutes prior. Plan on 2-3 days with reddened skin, and no peeling.
Scar treatment – PRP/PRF is injected or micro-needled to diminish the appearance of scarring from injuries, stretch marks, or surgical procedures. You will need the recommended series of four (4) treatments for best results.
Hair restoration – Recent hair loss or thinning? PRP/PRF might be your answer. Most patients experience around a 30% increase in hair growth. You will need a series of four (4) treatments spaced 4-6 weeks apart for best results. Results are seen in 4-9 months. You may want to consider touch up treatments every 6-12 months after series. PACKAGES AVAILABLE FOR SPECIAL PRICING
What is the difference between PRP and PRF?
PRP – Platelet Rich Plasma is produced from your blood. It is a concentration of platelets, which are found in your blood and necessary for clotting. Platelets and the liquid plasma portion of the blood contain many factors that are essential for cell recruitment, multiplication, and specialization.
PRF – Platelet Rich Fibrin is one fo the most natural ways to induce collagen. You can use PRF as an injection or with micro needling. Revive and Refresh uses a centrifuge produced by Cosmo France to generate PRF. PRF is a complex fibrin matrix rich in platelets, leukocytes, and mesenchymal stem cells. After micro-needled or injected into the skin, there is a constant release of growth factor and interleukins which accelerate tissue healing and generate collagen production. This is all natural; no coating, additives or anticoagulant present in tubes. And it is proven to release a higher concentration of growth factor for a longer amount of time.
Revive and Refresh proudly uses SkinPen for micro needling procedures.
PRP/ PRF is effective in most cases, however, no guarantees can be made. The average person needs four (4) treatment sessions spaced out 4-6 weeks, with final result in 4-9 months.
*** PLEASE STAY WELL HYDRATED FOR 24-72 HOURS PRIOR TO PROCEDURE FOR BLOOD DRAW. IT IS ALSO RECOMMENDED THAT YOU TRY TO EAT A WHOLE-FOOD, NUTRIENT-RICH DIET FOR 3-5 DAYS PRIOR TO PROCEDURE.
ON THE DAY OF THE PROCEDURE
​
Stay well hydrated for 24-72 hours prior to appointment
You may take Tylenol, but try to avoid blood thinning products such as aspirin, NSAIDS (ibuprofen, naproxen), Vitamin E, etc
Approximately 13-52ml of whole blood is drawn out of your arm
Blood is placed in a centrifuge to separate the cell components
The platelets, leukocytes, and mesenchymal stem cells are used for this procedure and transferred to a syringe for injection or micro-needling